FLOC Press
Community is everything these days and we are forever indebted to the people that lead our local communities to greatness. So this month Rasta Taco would like to name Shawn Wehan as the first Taco King of 2016!
Born and raised in Dana Point, Shawn Wehan has always had a sense of pride in his community. Volunteering with non-profit's since he was in college, Shawn is now trying to make a difference in more ways than one with 2 different amazing organizations that he's founded, FLOC and Givsum.
Fresh out of college, Shawn Wehan's desire was to become a Jesuit priest.
Fast-forward 15 years. He's the CEO of an Irvine-based tech company, Givsum.
"It's crazy," said the 40-year-old Dana Point resident. "There's no question my life has taken several surprising turns. But my heart is still very much in the same place."
Wehan started Givsum in 2013 as a one-stop source for volunteers, nonprofit organizations and corporations. The online platform allows individuals to conveniently track and promote their philanthropic interests and at the same time provides charities with an effective tool for raising awareness and funds, he said.
Wehan said he got the idea for Givsum when he started a group called Future Leaders of Our Community (FLOC), whose purpose is to match young professionals with local nonprofits.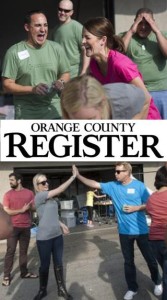 Youth Will Be Serving.
Orange County organization FLOC grows as it carries out its mission to help young volunteer professionals and nonprofit groups find each other."  The acronym for the organization Shawn Wehan and a few buddies started in 2009 to engage more young professionals in community-based philanthropy couldn't be more fitting: FLOC. It's pronounced "flock" and stands for Future Leaders of Our Community.  When Wehan launched the effort, the acronym stood for Future Leaders of Orange County. The tweak in the name reflects the growth in enthusiasm for what the organization aims to accomplish…Read More


Featuring Shawn from FLOC (Future Leaders of Our Community), connecting young leaders to local non-profits.  Listen Here!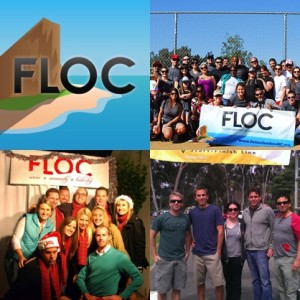 Future Leaders of Our Community was born from a brief conversation in a stairwell. Shawn Wehan was talking with a friend about the huge gap between the for-profit business world and the nonprofit sector. Young professionals who were looking to get involved in the community had no idea where to start. Wehan decided to band together some friends and FLOC was created in 2009 to address this need.  Read more…
June 13th, 2012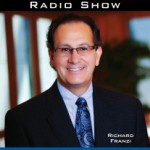 Shawn Wehan, Founder and Executive Director of Future Leaders of Our Community joins host Ric Franzi for the inaugural radio show totally dedicated to Orange County non profit organizations.  Shawn's organization brings bright, young residents in contact with worthy non profits to help create a talent pool of motivated young executives serving the needs of […]
AbsoluteOC Magazine ~ Jan. 2012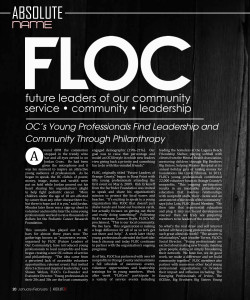 OC's Young Professionals Find Leadership and Community Through Philanthropy Around 8PM the commotion stopped in the trendy wine bar and all eyes zeroed in on Jordan Cross.  He had been given the microphone and it was his moment  to inspire an attractive young audience of professionals.  As he began to speak, the OC cliches of power, money, image, status and wealth were put on hold while Jordan poured out his heart sharing his organization's plight to help fight pediatric cancer.  "More children…read more.